News
Winner of Apprentice of the Year Award
Congratulations to our engineer Jack!!! A great achievement winning Coleg Gwent`s Apprentice of the Year Award.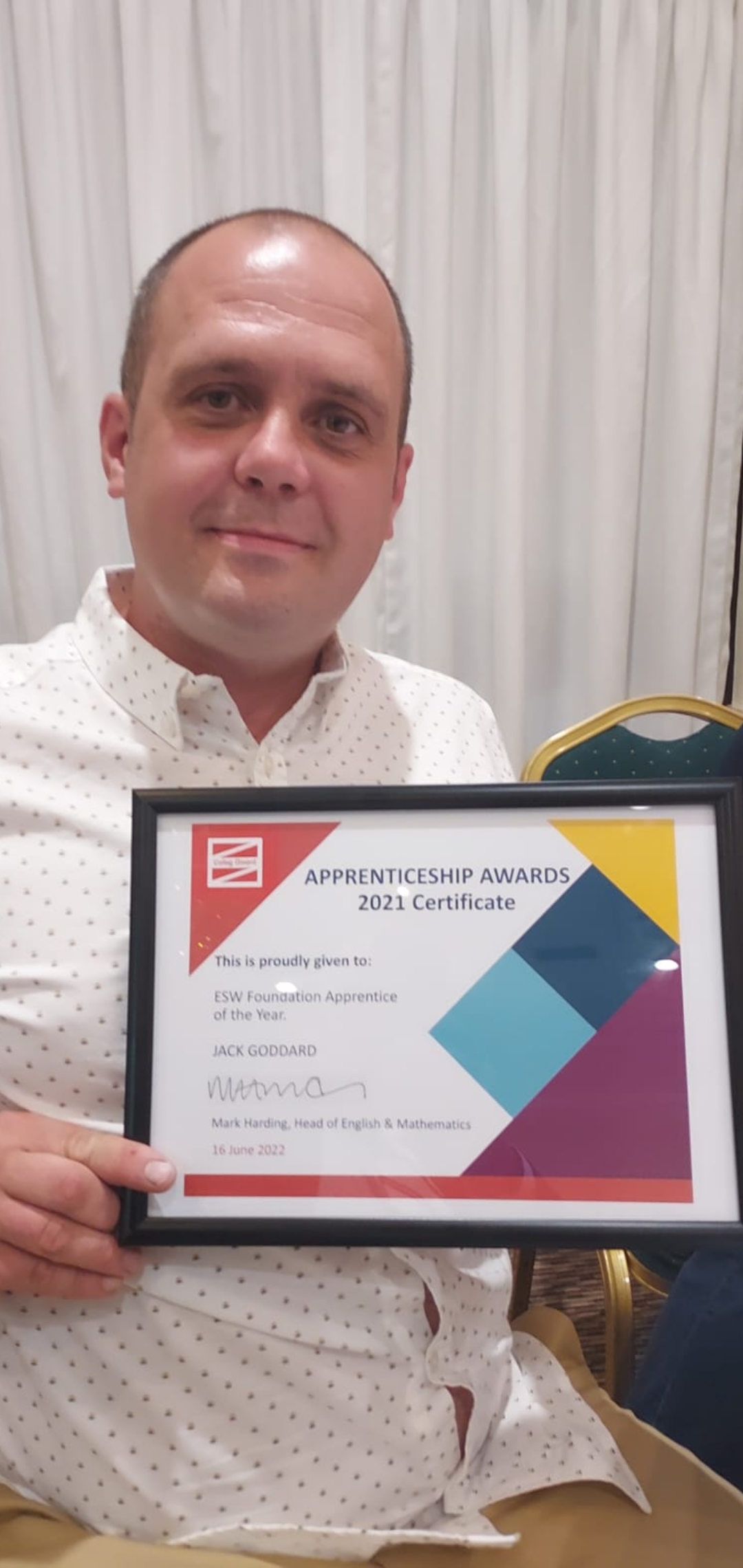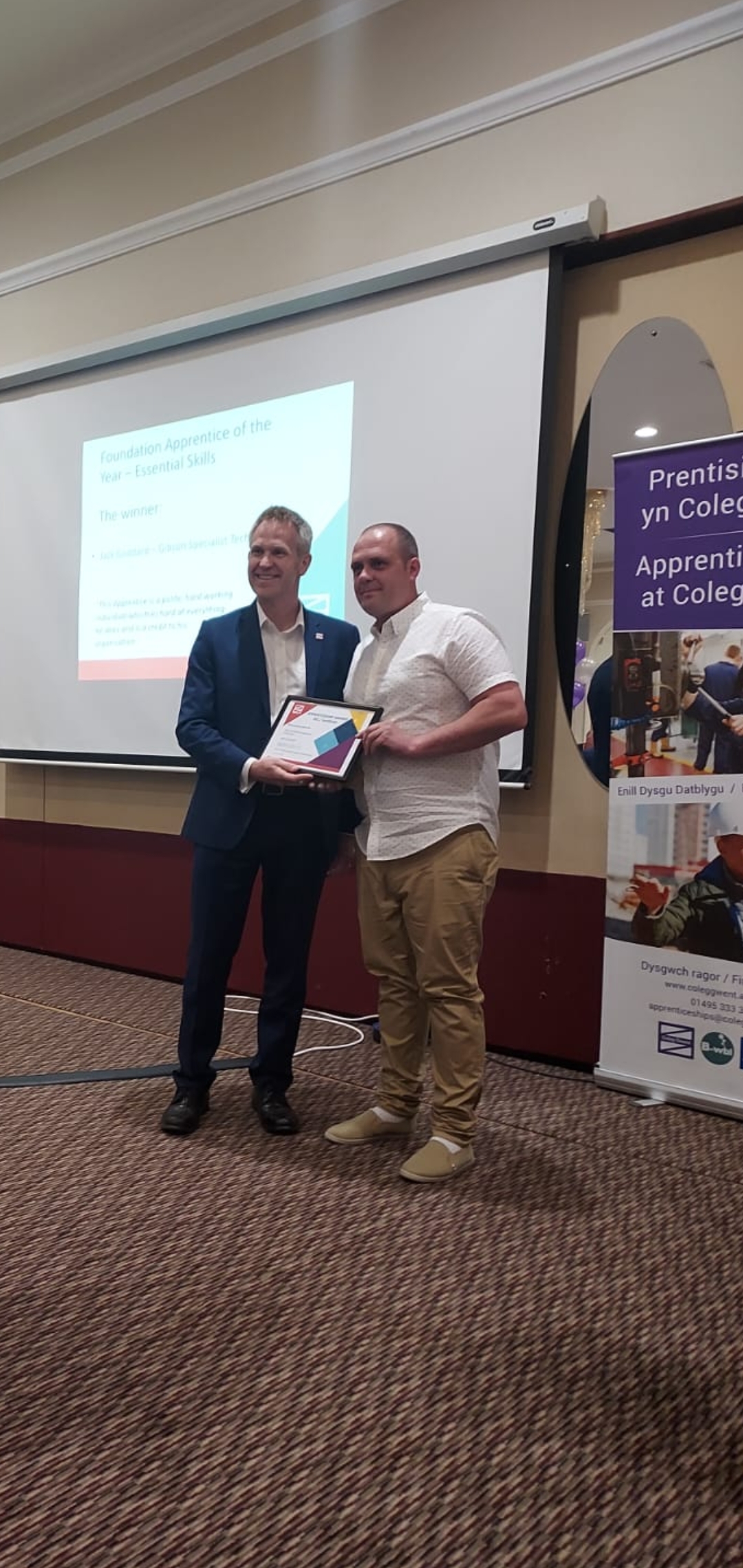 Homes and Places Village at the Bridgend College Our Future Festival
One of our clients, Valleys to Coast, invited us to attend their showcase event to show some of the services we can provide. We really enjoyed interacting with, and educating, not only students and school children that attended, but also members of the community about renewable and sustainable living systems. It gave us a chance to promote some new technology we can provide to save you money.
Welsh Procurement Alliance
We are proud to have been successful in becoming a Welsh Procurement Alliance partner which will allow us to help Wales become carbon neutral. The Framework allows local authorities, social landlords and other public sector bodies to source specialist suppliers who can install a variety of carbon-cutting improvement measures for domestic and public buildings and can carry out any associated repairs and retrofit work.

Armed Forces Covenant and Defence Employer Recognition Scheme
We are an accredited employer to the Register of Commitment to the Armed Forces Covenant and Defence Employer Recognition Scheme. We help and support all our employees who have been part of the armed forces. We recognise the value serving personnel, both regular and reservists, veterans and military families contribute to our business and our country.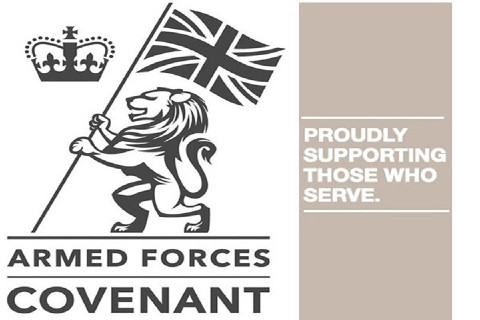 TESLA installer
We are now an approved TESLA installer. If you have a project to live off grid or want to achieve an electrical self-support system when there is a power outage, we can help you.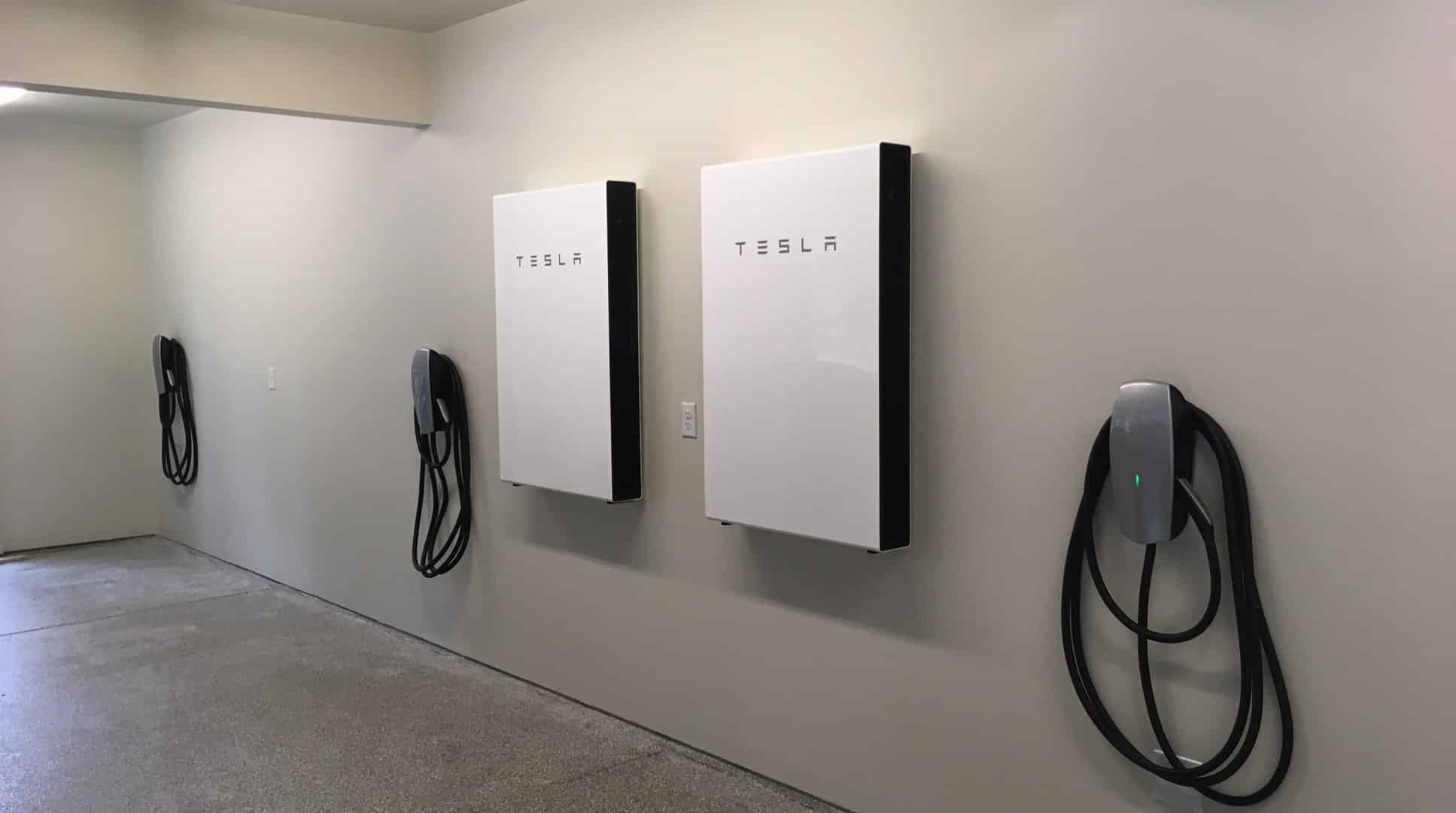 Approved Installer for Tesla
We are now an approved installer for electrical car charging points. With the new commitments the UK have made to reducing carbon there has been a surge in the need for charging points.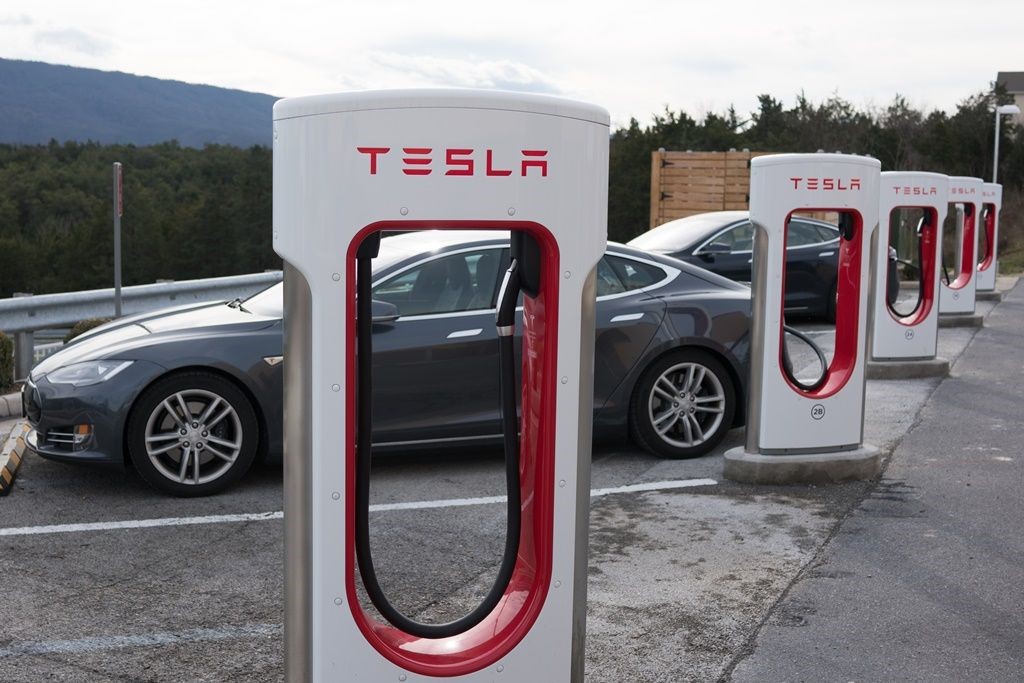 New disabled toilet facilities for West Pontnewydd Community Centre
September 24, 2018
Welsh firm Gibson STS provided free labour to transform the room with materials funded by Being Greener's community benefit fund. Madam Mayor Jessica Powell cut the "toilet roll ribbon" to officially open the new facility. Chairman Mark Eley said, "The team from Gibson STS have been brilliant. We run the centre through volunteers, we desperately needed disabled facilities, but we just didn't have the money. We are overwhelmed by the generosity and help".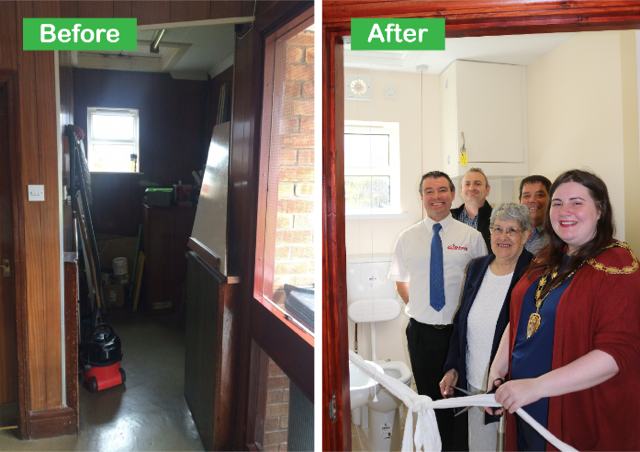 Gibson STS Ltd have become one of the first companies in Wales to sign up to the Living Wage Charter.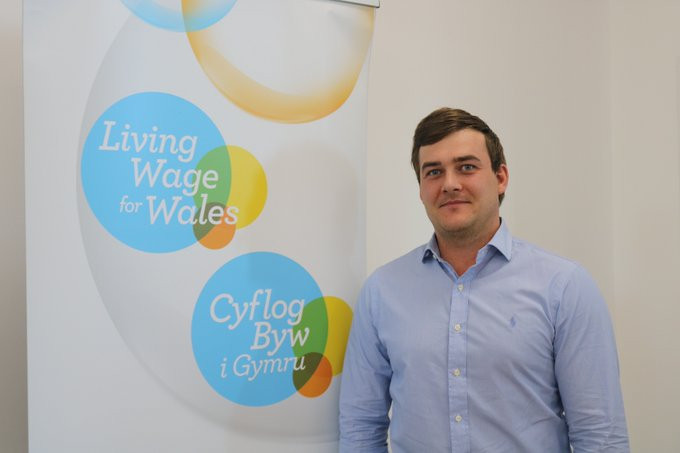 The Parliamentary Review
September 20, 2018
Welsh company Gibson Specialist Technical Services has been selected to contribute to the 2017 Parliamentary Review, representing the construction and engineering sector in Wales. The Parliamentary Review is sent to over 250,000 leading business executives and policymakers. Gibson STS features alongside The Chancellor of the Exchequer, The Rt Hon Philip Hammond, and a small number of leading organisations in the Construction and Engineering edition. The main aim of The Review is to showcase best practice as a learning tool to the public and private sector, with this edition aimed particularly at policymakers within government and the construction industry. The Rt Hon David Curry, said: "The whole purpose of the Review is to provide a forum where organisations can set out what they have achieved and, crucially how they have achieved it."

Face lift complete for Alma House
September 13, 2018
Gibson Specialist Technical Services have completed the installation of solid wall insulation to Alma House, Brynmawr on behalf of United Welsh Housing Association.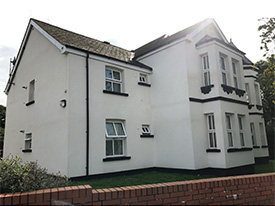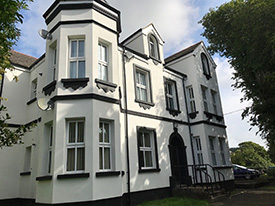 Investors in People Accreditation
Gibson STS is proud to have been awarded the IIP Accreditation. The report acknowledged the hard work, commitment, skill sets and development of the company's workforce. "The level of commitment to the business and the role expressed by some was incredible. Quality was an evident focus across the business. People were proud to work for Gibsons and wanted to represent the business in the best way possible by providing high quality service. There was a strong emphasis on getting it right first time. The key values of the company expressed by those interviewed include; openness, honesty, safety, quality and trust."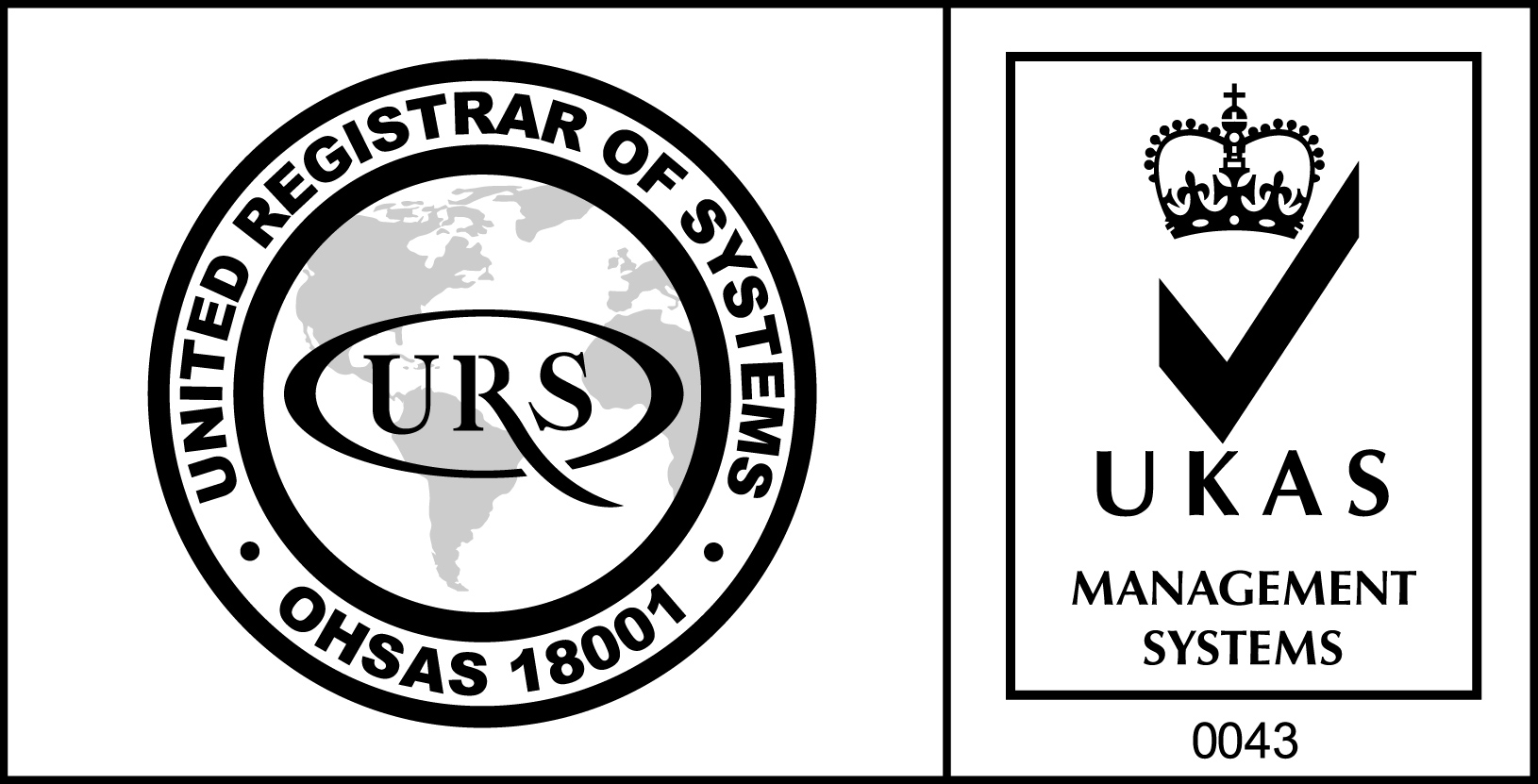 Caerau Community Benefits
Huw Irranca Davies (PM) and Janice Gregory (AM) attended the official opening of the newly renovated Caerau, Maesteg Community Centre. The Community Centre was renovated as a gift by Gibson Specialist Technical Services as part of their community benefits commitment in association with Welsh Government works undertaken in the area. http://gov.wales/docs/desh/case/161117-arbed-case-study-caerau-maesteg-en.pdf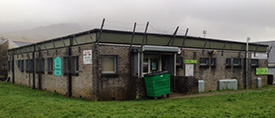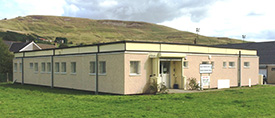 Gibson STS wins Welsh National Business Award
Gibson Specialist Technical Services were awarded the Welsh National Procurement Award at the City Hall, Cardiff. Pictured above are representatives of the successful collaborative delivery team which include the board and ARBED management team of Melin Homes and Thomas Eco Limited. In introducing the award Professor Dermot Cahill said the collaboration should "act as an inspiration for other businesses across Wales".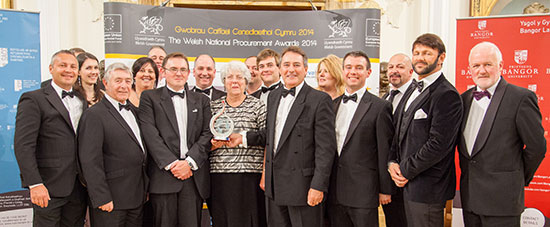 Bridgend company shortlisted for Welsh National Business Awards
Minister for Finance Jane Hutt AM invited Paul Gibson of Gibson Specialist Technical Services to address business leaders at the Welsh Government Offices, Cardiff on energy efficiency and European funding, and announced that the Bridgend based company had been shortlisted for one of the Welsh National Procurement Business Awards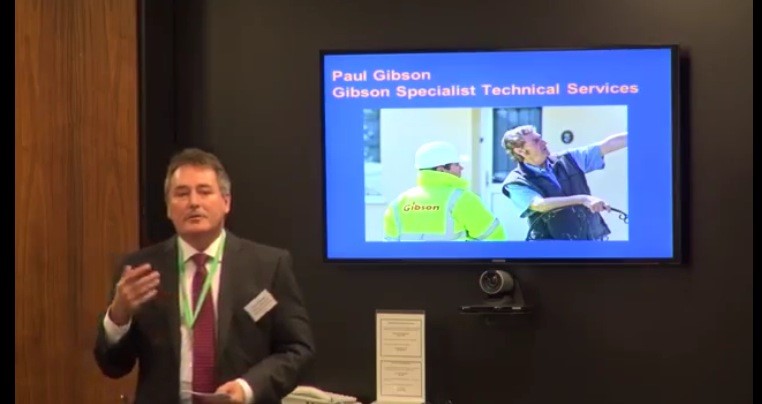 Community Benefits
As part of their commitment under Welsh Government's Arbed Phase 2 project, Gibson Specialist Technical Services have gifted a new Solar PV system to Fochriw Community Centre that will generate index linked income for the local residents for the next 20 years. Welsh Assembly Minister's Alun Davies AM and Huw Lewis AM officially opened the Solar PV system and were joined by school children from Fochriw Primary School who had completed a project on the new technology.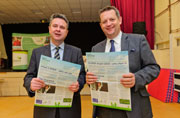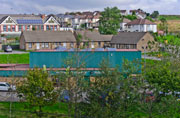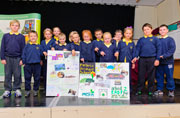 Green Deal News
Gibson Specialist Technical Services has qualified as an Approved Green Deal Installer for External Wall Insulation, Heating System Insulation, Heating Controls, Gas Condensing Boilers, Heat Pumps, Solar Thermal and Solar PV.
Arbed 2 Award
Representatives of Melin Homes, Welsh Government, the European Regional Development Fund and Gibson STS attended an Arbed 2 Open Day. Gibson STS have been awarded the Principal Contractor role in the Welsh Government's first Arbed 2 Scheme in Fochriw. The total budget available for the Arbed 2 ERDF project, for both Convergence and Competitiveness Areas in Wales, will be up to £45million. The Arbed programme will continue to boost local economies by using local businesses to manufacture, supply and install, and provide training and employment opportunities for local workers.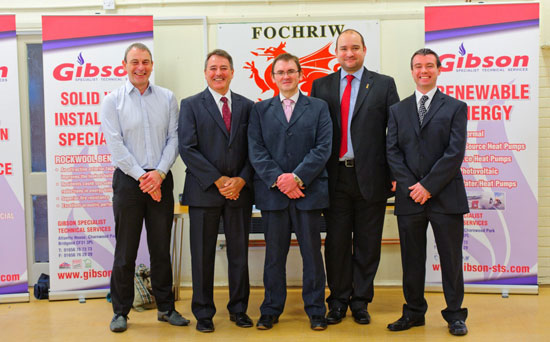 Y Prentis
Jeff Cuthbert, Deputy Minister for Skills and Technology, along with Paul Gibson and other Framework Partners, attended the official launch of Y Prentice at the Senydd in Cardiff Bay. Y Prentis is a new initiative which offers sustainable training and employment to apprentices and was developed through a partnership between Construction Skills, Melin Homes, CMC2 and construction industry framework partners.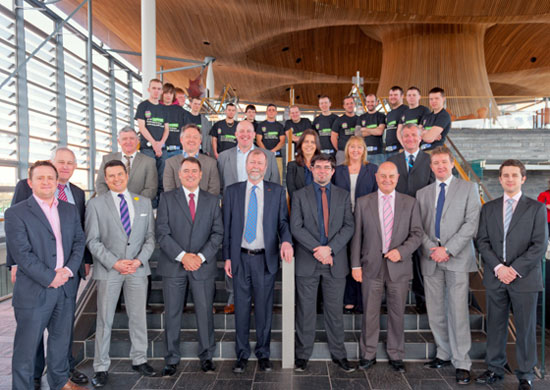 Ground-breaking (literally!) technology
Gibson Specialist Technical Services have been installing ground source heat pumps into some of Wales and West Housing Association's properties in mid and north Wales. The heat pumps are probably the most sustainable heating and hot water solution widely available and WWHA have been able to install them thanks to a grant from the Welsh Government's Arbed programme. The photos show a 10 tonne drilling rig which had to drill down 161 meters. As you would expect, it was a little messy! However on the right hand side you can see now that the work has been completed - in fact you probably wouldn't even know it anything like this had happened! Owen Jones, Environment and Sustainability Officer, Wales & West Housing said, "It's my understanding that this project is probably the largest retrofit installation of this technology in social housing to date. "It has been quite challenging and has involved a great deal of hard work from staff and contractors alike. The residents involved have also been fantastic as the work has been quite disruptive. However now that it is complete we believe that the residents involved will reap the benefits over the coming years as they have a far more controllable heating solution for their home which should also help them to reduce their energy bills."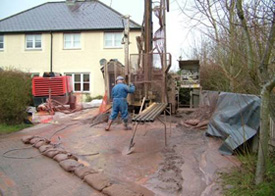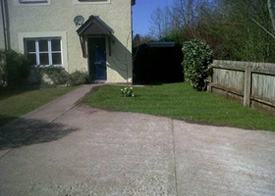 Bridgend Company's Contract Award Success
Gibson Specialist Technical Services, a Bridgend based services company, has recently won contracts in excess of £6.5 million. The company offers specialist services to the renewable, heating and water industries. Managing Director Paul Gibson believes winning these contracts is down to the company's innovative approach to working methods and a strong determination to deliver efficiency savings for their clients. From a local perspective, this warranted achievement has allowed the company to create new employment opportunities. New recruits will be fully trained in the solar and heating industries, encouraging the development of vocational skill-sets. As a small to medium sized enterprise, the primary ethos behind Gibson Specialist Technical Services is to provide the highest quality of service, knowledge and expertise within the field, demonstrating the competitive edge and extensive capability the business has among bigger companies of similar industries
WWHA invests more than £700,000 in Heads of the Valleys homes
HUNDREDS of Wales & West Housing Association residents who live in the Heads of the Valleys area are to benefit from £715,000 investment in energy efficiency improvements to their homes. WWHA, one of the biggest registered social landlords in Wales, has installed solar panels on homes on their Twyncarmel estate in Merthyr Tydfil, as well on the roofs of five retirement schemes in the area: Ty Pontrhun, Ty Brynseion and Ty Gwaunfarren in Merthyr, Cwrt Andrew Buchan in the Rhymney Valley and Llys yr Onnen in Mountain Ash. "The installation of these hi-tech solar panels will enable our residents to benefit from lower energy bills in their homes and help reduce fuel poverty," said Steve Porter, Head of Property Services for WWHA. Environment Minister Jane Davidson said: "Wales is leading the way with Arbed. It is an innovative scheme that focuses on making homes in some of Wales' most deprived areas much more energy efficient. WWHA is working with a number of Welsh firms on the project, including Bridgend-based Gibson Specialist Technical Services. Paul Gibson, Managing Director of Gibson Specialist Technical Services, said: "ARBED has enabled Gibson Specialist Technical Services to expand our Renewables Division by recruiting in the Heads of the Valleys region through Jobmatch, a government sponsored training provider that helps develop the employability skills of disadvantaged people furthest away from the job market, and to gain our MCS accreditations in Solar thermal, Solar PV and Heat Pumps."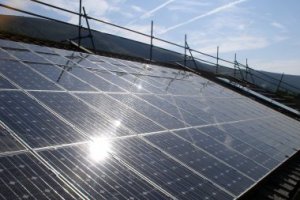 Gibson Specialist Technical Services become MCS Accredited installers
Gibsons are approved installers under the Microgeneration Scheme for the installation of Solar Heating, Solar Photovoltaic and Heat Pump systems, and have been successful in securing several installation contracts under the ARBED Scheme for local housing associations.
Residents feel the benefit of energy scheme
First Minister Carwyn Jones visited residents of The Beeches retirement complex in Quarella Road to see how residents were getting on with their new gas supply. The fuel poor scheme extends Wales and West Utilities' gas network to communities and individuals who have previously been unable to benefit from a connection to gas mains. "I understand this is the first such project in Wales and I am really pleased that I was able to help the residents in kick starting the project," said Carwyn Jones. Anne Hinchey, Chief Executive of Wales and West Housing Association, which runs The Beeches, said: "Being able to access affordable, reliable sources of fuel has never been more important, especially for older people during prolonged spells of bitter winter weather, such as the one we are experiencing now. "Wales and West Housing Association was delighted to have been involved from the start with this new scheme. Thanks to the hard work and dedication of all the parties involved, our residents at The Beeches are now benefiting from the new gas supply. I'd like to thank everyone for their help including local firm Gibson Specialist Technical Services who did so much of the work."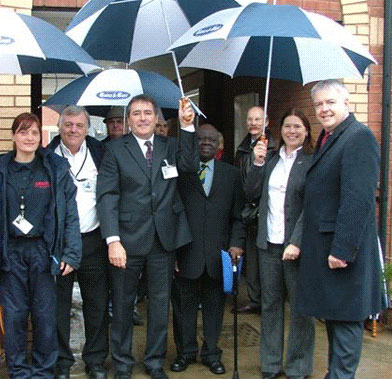 Success of collaborative working in the social housing sector
In conjunction with Family Housing Association, Gibsons were asked to give presentations to members of the Welsh Assembly Government on the success of collaborative working in the social housing sector. Our Continuous Improvement senior engineer Ceri Dawe presents to members of the Welsh Assembly Government, including Andrew Davies, Minister for Finance and Public Service Delivery in the Welsh Assembly Government and Richard Wilson, Director of Construction for WAG.